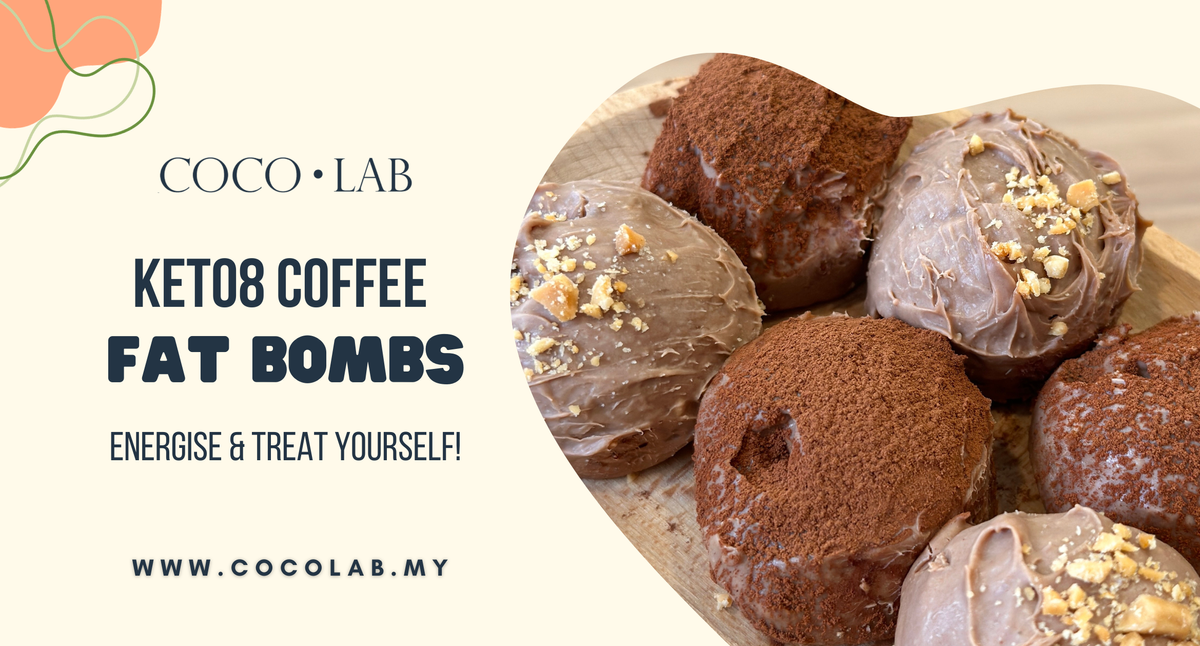 Calling all
Keto8 Coffee
lovers and treat seekers out there! We embark on yet another culinary journey to create the most epic Keto Fat Bombs! Don't let that name fool you, these goodies will not just tickle your taste buds, but also give you that much-needed energy boost. Get ready to dive into the world of Java-Choco Delight – where creamy meets energising, and indulgence meets ketosis!
Ingredients:
227g cream cheese, softened
113g salted butter, softened
1 sachet of COCOLAB Keto8 Coffee (dissolve the coffee with 15ml of hot water first)
1 sachet of COCOLAB MCT C8 Powder
60g sugar-free chocolate
2 tablespoons of any keto-friendly sweetener (stevia or erythritol)
Optional: A dash of cinnamon powder for a cozy twist or vanilla extract
Instructions:
(1) Coffee Kickstart:
In a mixing bowl, combine the softened cream cheese, butter and the dissolved Keto8 Coffee. Mix it up well – the coffee flavour is about to party with the creaminess!
(2) Choco Magic:
Time to introduce our chocolatey partner in crime. Melt those sugar-free chocolate chips. You can use a microwave or a double boiler – either way, just make sure they're all melty and irresistible.
(3) Sweet Symphony:
Add in any of your keto-friendly sweeteners into the cream cheese-Keto8 Coffee mix. This is where the sweetness gets its groove on. If you want to add more flavour, add vanilla extract or cinnamon powder to the mix.
(4) Choco-Coffee-MCT C8 Fusion:
Pour the melted chocolate into the cream cheese-Keto8 Coffee mix. Now, add in 1 sachet of MCT C8 Powder into the mixture for that double espresso shot boost effect 💪 Mix till everything is well combined.
(5) Shape & Chill:
Time to shape these delectable bites! Grab your trusty spoon or scooper and form small balls. Place them on a parchment-lined tray. Or, pop them into cute little silicone ice trays / muffin trays (be sure to line insides with butter). Once done, pop them into the freezer for around an hour to let them firm up.
(6) Dive into Delight:
Your Keto8 Coffee Fat Bombs are ready to be devoured! These Keto8 Coffee Fat Bombs are perfect as an afternoon pick-me-up, a pre-workout snack, or even as a dessert to finish off your meal.
(7) Energising Twist: Add a Crunchy Nutty Delight!
Wanna take your Keto8 Coffee Fat Bombs up another notch? How about adding some crushed nuts like almonds, walnuts, or pecans? Mix them into the cream cheese-Keto8 Coffee-chocolate blend before shaping.
And there you have it, folks – a tantalising Keto8 Coffee Fat Bomb recipe that combines the rich creaminess of cream cheese, the energising kick of COCOLAB's Keto8 Coffee, and the sweetness of chocolate in one fantastic treat. So, go ahead, whip up a batch, share the joy, and treat yourself to a Java-Choco escape that won't throw your keto journey off track. Happy indulging!
---
Related products