Details

Learn more about MCT C8 VS Other MCTs HERE
In fact, a recent study in 2019 showed that MCT C8 was about three times more ketogenic than C10 and about six times more ketogenic than C12 under these acute metabolic test conditions, an effect related to the post-dose increase in octanoate in plasma total lipids (*).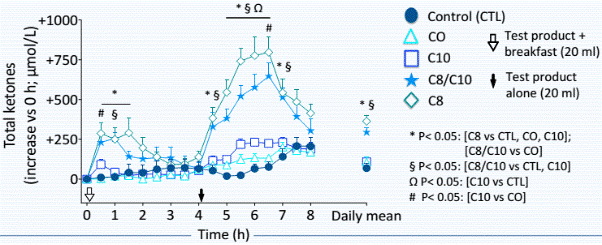 [Now in Vegan-Friendly Powder Form!] 100% Pure C8! Now you can Keto-on-the-Go with our travel-friendly sachets! If you're a fan of powdered solutions, this is for you! Double your keto levels with our Pure C8 (Caprylic Triglycerides) supplement. Made from pure MCT Oil C8, COCOLAB's MCT C8 Powder is a proven solution to elevating blood plasma ketone levels compared to MCT Oil C8/C10 combo. When taken in isolation, C8 is the main contributor to elevating ketone levels, leading to a more effective weight loss diet.
Recommended For
Highly recommended for individuals on ketogenic diet (keto diet) or IF (intermittent fasting). For those who are more sensitive towards taste, this taste-free product mixes well into whatever you put it into without altering the taste of the food. Alternatively it can be consumed on its own. The COCOLAB MCT Oil C8 is packed with up to 6x the ketone energy. It also boosts weight loss. In addition, people suffering from fungal infections e.g. Candida yeast infection will find this beneficial in combating fungal infections. Suitable for all ages.
Benefits
Up to 6x more instant ketone energy

Increases metabolic rate

Reduces hunger cravings

Keeps you feeling full for longer

Anti-bacterial, anti-viral & anti-fungal properties

Fights candida yeast infections

Helps treat digestive disorders

Alleviates fatigue

Improves focus and concentration

Reduces risk for antibiotic resistance

Improves heart health

Boosts healthy cholesterol levels
More on our COCOLAB blog:
Ingredients
Caprylic Triglycerides C8
NOTE: This oil will remain a liquid down to zero degree centigrade.

Certified HALAL by JAKIM

Directions For Use
The recommended dosage is 2 tablespoons daily in the morning. Take it 30 minutes before your meal if you are on a weight loss diet.
For better results, take on empty stomach and in split dosages throughout the day (15ml / 1.5 tablespoons x 3).
For those looking for general health maintenance, you may take it anytime (before/after meal). You can also incorporate our MCT Oil C8 in salads, juices, coffee, oats or baking recipes according to your preference.
Also available in travel-friendly sachets.
Prefer taking it in powder form? Check out the MCT C8 Powder.
Try COCOLAB's MCT Keto8 Coffee here!
*in some cases, you may pass motion. This is perfectly normal as your body begins to acclimatize to your new diet. You may opt to reduce dosage after your meals.
*if you're just starting out on MCT C8 Oil, we recommend taking half the recommended dosage, after food, for the first 3 days to allow the body to acclimatize to the product. Slowly build up to full dosage after, and before a meal depending on your diet.
FAQ
[Q] I am not on a keto diet. Will MCT C8 still work for me?
[A] Yes, it will. Our MCT range is suitable for those on keto diet and for those not on a keto diet. You will still enjoy the same health benefits of taking MCT.
[Q] The instructions state 20ml per day. How much is 20ml?
[A] 20ml is the same as 2 large tablespoons such as those used to eat rice. Do not worry about going over the 20ml dosage as this is a rough guide.
[Q] Can I take more than 20ml a day?
[A] Yes, you can. You can enjoy MCT C8 at any time of the day or at any time during/before/after your meal. This will also enhance your ketone levels and maintain them throughout the day.
[Q] How do I take MCT C8 Oil?
[A] You can consume MCT C8 Oil as it is or mix it into salads / foods.
[Q] Can I put MCT C8 Oil into beverages such as coffee?
[A] One of the popular ways of taking MCT C8 Oil is to mix it into coffee to make a bulletproof drink. You can also try it in tea or juices. Just note that this is an oil and you will need to stir it in. When leaving your drink to sit for a few minutes, you will notice the oil layer on top. Simply stir your drink again if this happens.
[Q] Can I mix MCT C8 Oil with hot water?
[A] Yes, you can. This will not affect MCT C8 Oil. You can also cook some meals with it as a healthier oil option.
[Q] I am on a diet. Can MCT C8 Oil be my meal replacement?
[A] MCT C8 Oil does have a satiating feeling and causes you to feel full. In some individuals, this acts as a "meal replacement" and can suffice them until the next eating window. If you feel that you are still hungry, you can still consume other healthy foods after taking MCT C8 Oil.
[Q] Can I take MCT C8 Oil during my fast on IF (intermittent fasting)?
[A] Yes, you can take MCT C8 Oil during your fast. Studies have shown that consumption of a healthy saturated fat such as MCT during your fast will still keep your body in its fasting state. Read more about IF here (Your Hack to IF)
[Q] After taking MCT C8 Oil, my body feels warm and heaty. Is this normal?
[A] Yes, this is normal. This warm feeling is not a sign of your body breaking down as widely believed in Traditional Chinese Medicine. This is merely a thermogenic reaction as MCT C8 increases your body's metabolism rate, causing your body to burn more carbs and fats. If you are feeling overly warm, try spacing out your MCT C8 intake instead of a single serving.
[Q] After taking MCT C8 Oil, I am experiencing some stomach discomfort and having the toilet runs. Is this normal?
[A] Yes, this is completely normal especially if you are new to MCT C8 Oil. MCT C8 Oil causes faster bowel movements and this may result in a toilet rush. But you can avoid this by cutting your dosage into half for the first 3-4 days and taking it after a meal. This allows your body to adapt to the new intake of MCT C8 Oil for the time being. After that, you can increase the dosage to normal and even try taking it before meals for those on a weight loss plan.
[Q] Do I take MCT C8 Oil before or after meals?
[A] You can take them either ways. Taking it 15-30 minutes before a meal makes you feel full and therefore you would consume less in your meal. This is the preferred option for those under a weight loss plan. Taking it after a meal, especially after lunch, would increase your ketone levels so that you can avoid a energy slump during the day time and improve productivity.
[Q] I enjoy working out and exercising but sometimes, I feel too tired to gym after a long day at work. Can MCT C8 help with this?
[A] Yes, it can definitely help. Taking MCT C8 before your workout gives you more energy to complete your workouts efficiently. You will waste less effort in a mediocre gym session and turn it into a great workout.
[Q] Can I take MCT C8 Oil with Trimmax Belly Fat Burner?
[A] Yes, you can. This is a popular combo for those under a weight loss plan. We suggest taking MCT C8 Oil before your meal, and Trimmax after. You can continue taking split dosages of MCT C8 throughout the day.
[Q] I've been taking MCT C8 Oil for a while now but I am still having the tummy runs. What can I do?
[A] If taking MCT C8 Oil in smaller dosages over a period of time has not worked out for you, you may have a more sensitive stomach. This is nothing to fear and is just how your body is designed. In this case, we would strongly recommend taking the powder variation instead which is MCT C8 Powder. This can be mixed into drinks and is the most preferred MCT option for those with sensitive stomachs.
Best MCT Oil Malaysia MCT C8 COCOLAB