Details
NEW ARRIVAL! Total Beauty Supplement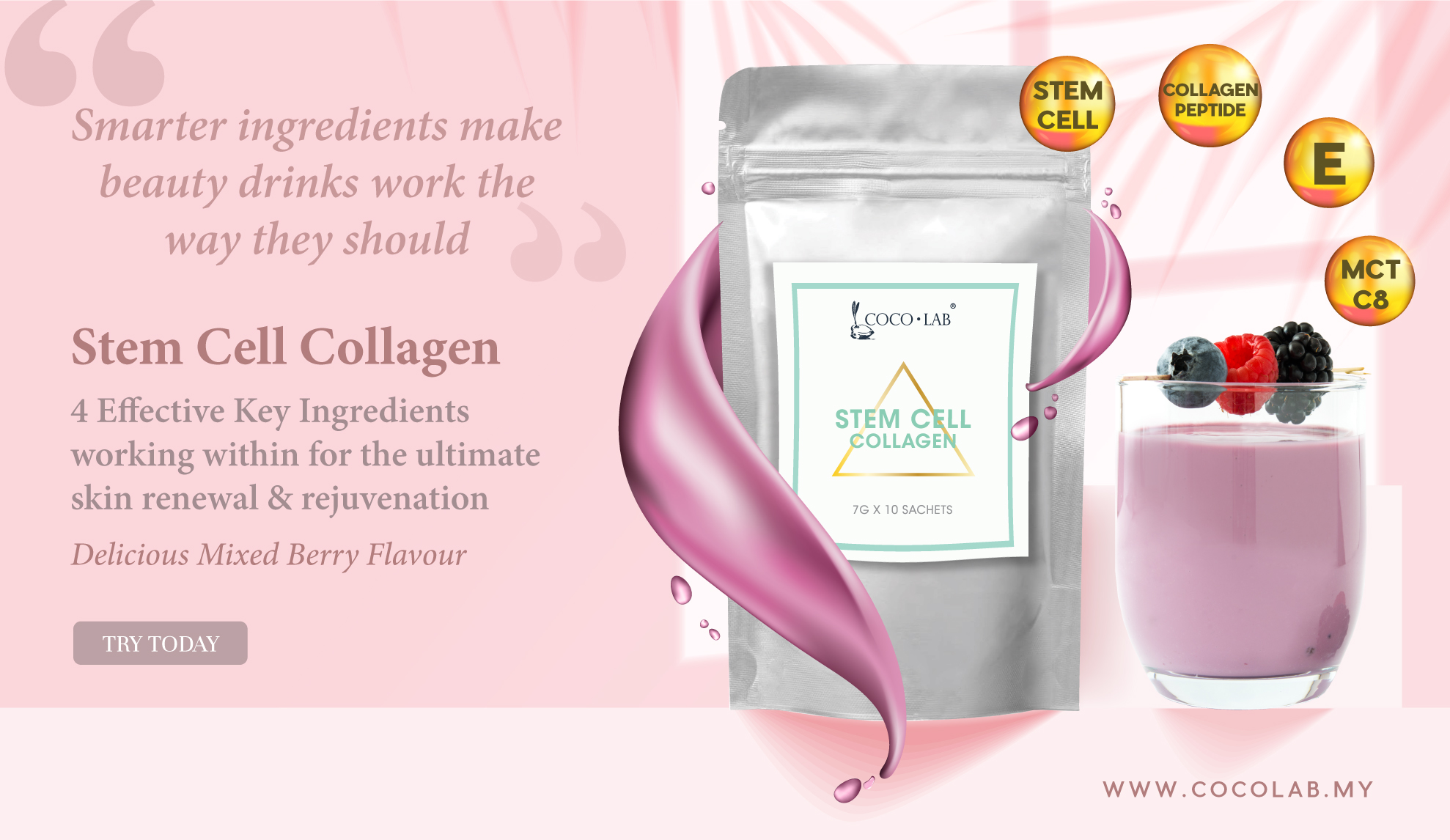 COCOLAB's Stem Cell Collagen drink is the latest in combining 4 active ingredients to give your skin the supporting structures for beautiful and younger skin. This all natural beauty supplement comes in convenient sachets in a delicious mixed berry flavour. Replenish your skin's collagen levels and boost new skin cell production by 10x with Stem Cell Collagen. Now that's a yummy drink working extra hard for your skin.
Highly recommended for maintaining and restoring youthful skin.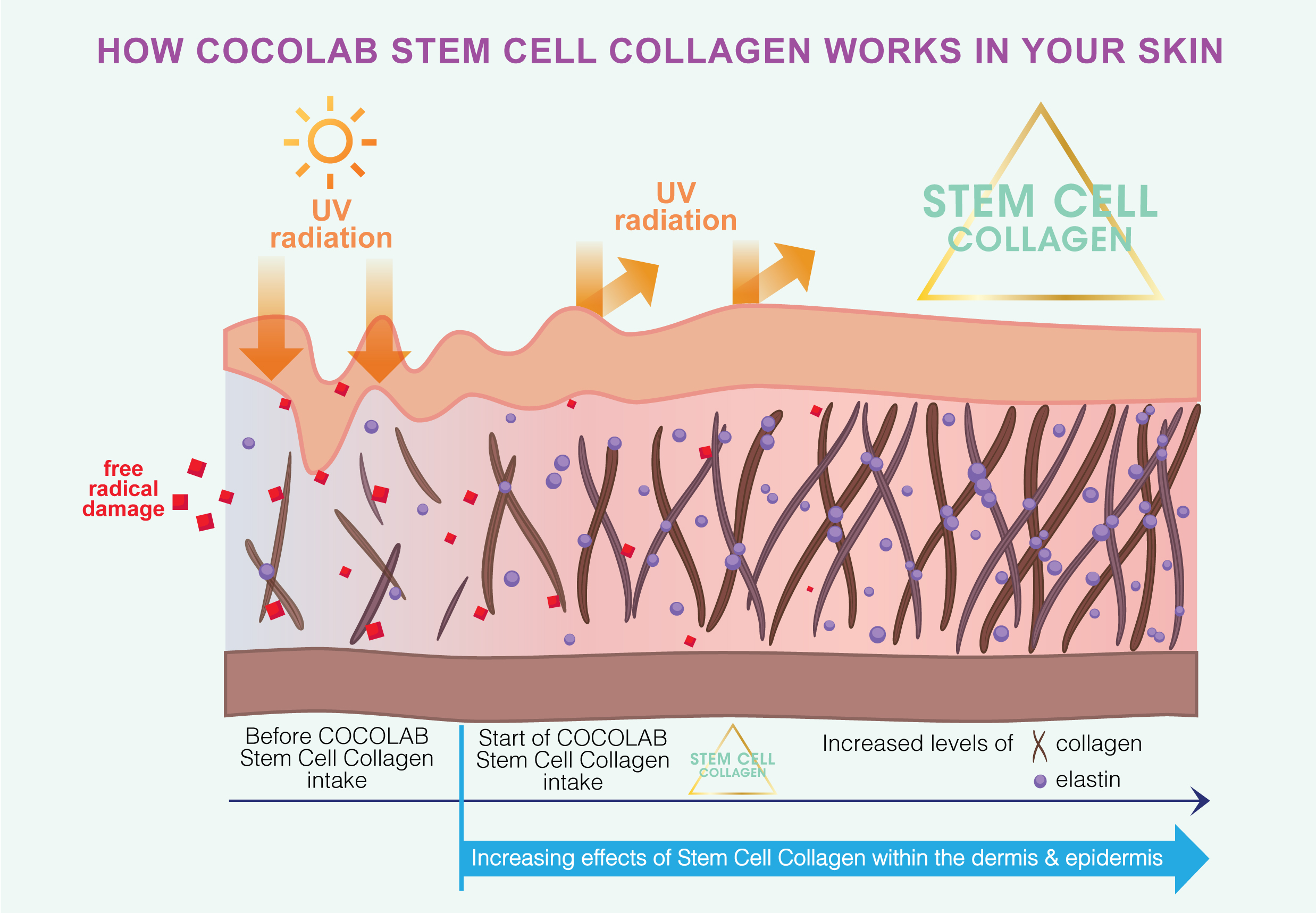 Our skin is made up of many specialized cells and connective tissues within the epidermis and dermis layer. Like all living cells, there are specific stem cells made by the body that continuously divide to replace older cells, but, every stem cell has a limited amount of divisions.
Our skin is made up of these epidermal stem cells. As we age, the amount of these specialised stem cells being produced starts to drop and this presents a problem in supplying an uninterrupted supply of new stem cells to maintain and repair the skin[1]. Our collagen levels naturally begin to drop and connective tissues such as elastin and proteins that support the skin structure are not as abundant as they were before.
When their division cycles have reached their limit, they start to deplete. As a result, lost or dying skin begin to outnumber slower replacements and this shows as common aging skin problems such as wrinkles, dark spots, fine lines, loss of skin firmness or sagging skin.
Key Ingredient: Apple Stem Cell
In order to combat this problem, a specific type of Apple Stem Cell from the Uttwiler Spätlauber apple is able to replace the lost skin stem cells. COCOLAB's Stem Cell Collagen contains this key active ingredient to supply the skin with a healthy boost of skin stem cells needed to maintain a youthful skin appearance.
The Uttwiler Spätlauber apple demonstrates an exceptionally long shelf-life.
Supplying the body with this active ingredient mobilizes the skin stem cells to manufacture the collagen, glycosaminoglycans, reticular and elastic fibers, and glycoproteins that make up the extracellular matrix (connective tissues providing support to cells).
The Apple Stem Cell viability with human stem cells were also tested to show human cell proliferation and turnover of 80% increase[2]. The results is comparable with animal origins placentas or stem cells, but without the ethical, religious or moral concerns.
Supplementation of Apple Stem Cells also strengthen the skin against UV radiation. While 50% of stem cells in the controlled medium died, cells in the tested medium culture only showed a small amount of cell death after being exposed to radiation[3].
In another experiment, scientists treated fibroblast cells in the skin with hydrogen peroxide for two hours until the cells began to show classic signs of aging. This experiment looked at disrupting the genes that are responsible for cell growth and causes premature cell death. When the Uttwiler Spätlauber Apple Stem Cells were introduced, this disruption was neutralized and in some cases, showed signs of renewal[4].
This shows the Apple Stem Cells play a significant role in repairing damaged tissues and organs. Marked improvements in skin were noticed in an experiment conducted where 100% of participants showed a significant and visible decrease in wrinkle depth on the crow's feet area[5]. Stem cells are capable of self-renewal and can transform themselves into differentiated cells such as skin stem cells. This makes them vital for continuous maintenance of youthful skin.
Key Ingredient: Pure Fish Collagen Peptides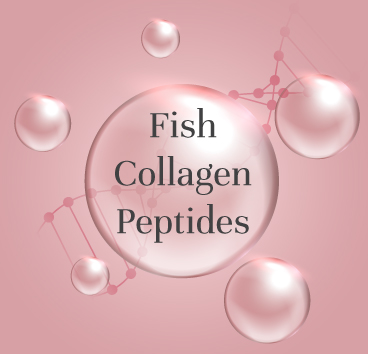 Collagen is the most abundant protein found in the human body, making up around 30% of the total protein and 75% of the skin structure. It is found in bones, muscles, skin and tendons, where it forms a scaffold to provide strength and structure. Collagen is the "glue" that holds stuff together, without which, will start falling apart e.g. saggy skin and weakening of cartilage in joints.
Did you know that 75% of your skin dermis is made up of collagen?
Collagen production naturally decreases as we age. This can lead to reduced integrity of tissue structure. The skin thins and is prone to wrinkling, bones lose density, cartilage starts to weaken, joints lose mobility, flexibility is reduced and signs of ageing start to set in.
Collagen supplementation will continually replenish collagen levels required by our body to maintain its form and function. It is used to combat the signs of ageing and restore youthfulness to our skin and body.
Fish Collagen Peptides are easily absorbed with less wastage per mg, delivering collagen to sites that are deficient. This can be in bone joints and in our skin where it restores and repairs damaged structures, improving strength and integrity. Our Fish Collagen Peptides contain high quality Type 1 collagen, mainly used for the structural support of healthy skin. They assimilate easily into tissue structures to support, hydrate and plump up skin[6], giving skin a firmer and tauter appearance.
Key Ingredient: Tocotrienols Tocopherols Vitamin E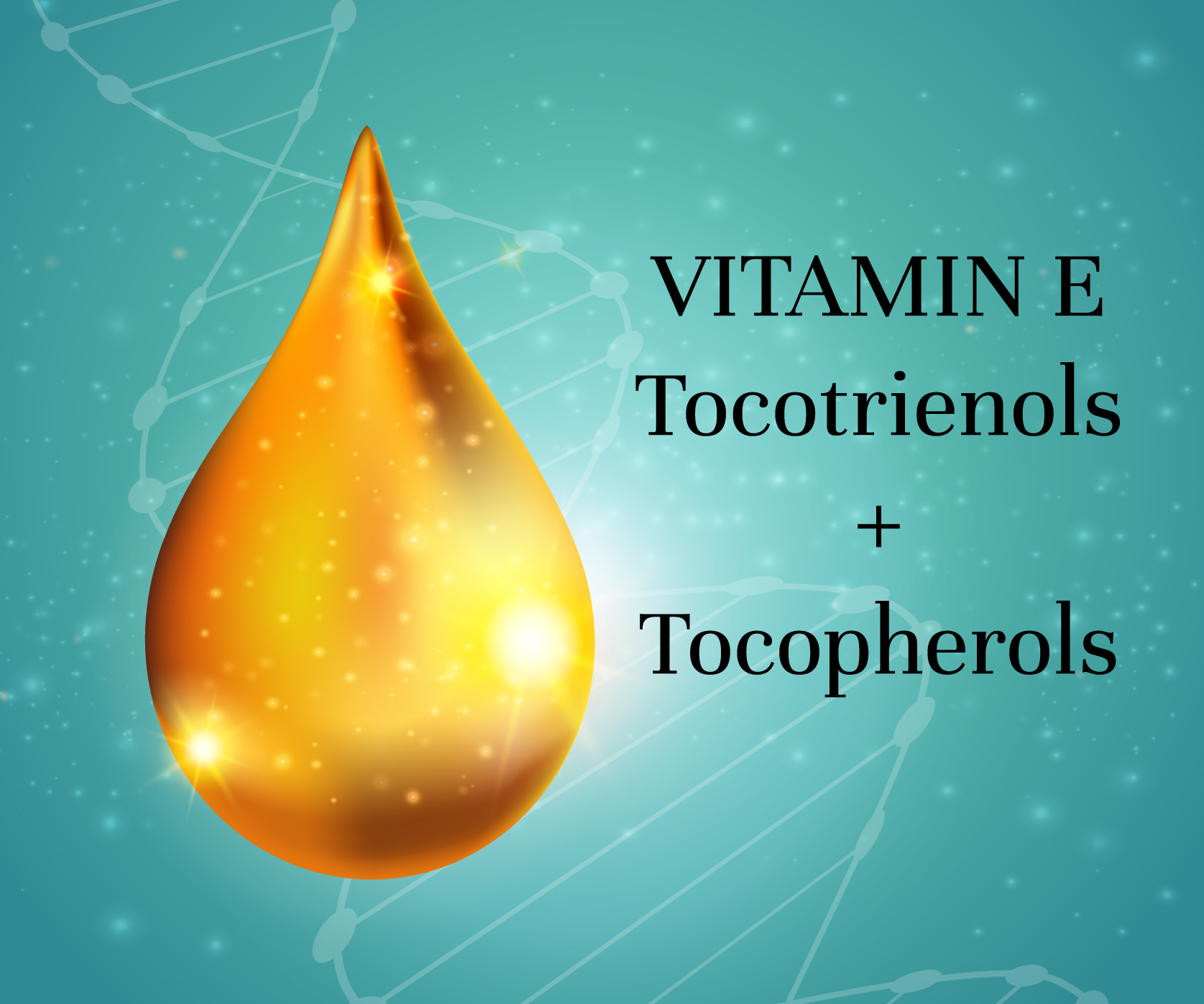 COCOLAB uses full spectrum Vitamin E containing powerful Tocotrienols and Tocopherols to deliver maximum efficacy to the skin. Vitamin E plays a vital role in skin health and maintenance, and its full benefits can only be realized with the supplementation of Tocotrienols. Tocotrienols are smaller compared to more commercially available Tocopherol. This gives it better flexibility for higher cellular repair. Together, this Super Vitamin E form works synergistically to promote better skin appearance, stronger skin cells and a brighter complexion.
When our skin is exposed to the sun and environmental pollutants, the number of free radicals in our body increases. This causes early skin-aging symptoms such as dark spots, fine lines, wrinkles, loss of skin firmness and dry or dull-looking skin. Supplementing your body with Tocotrienols Vitamin E gives an anti-oxidant boost, vital in promoting efficient cellular repair from free radical damage. Tocotrienols scavenges these free radicals and eradicates them before contributing to more damage.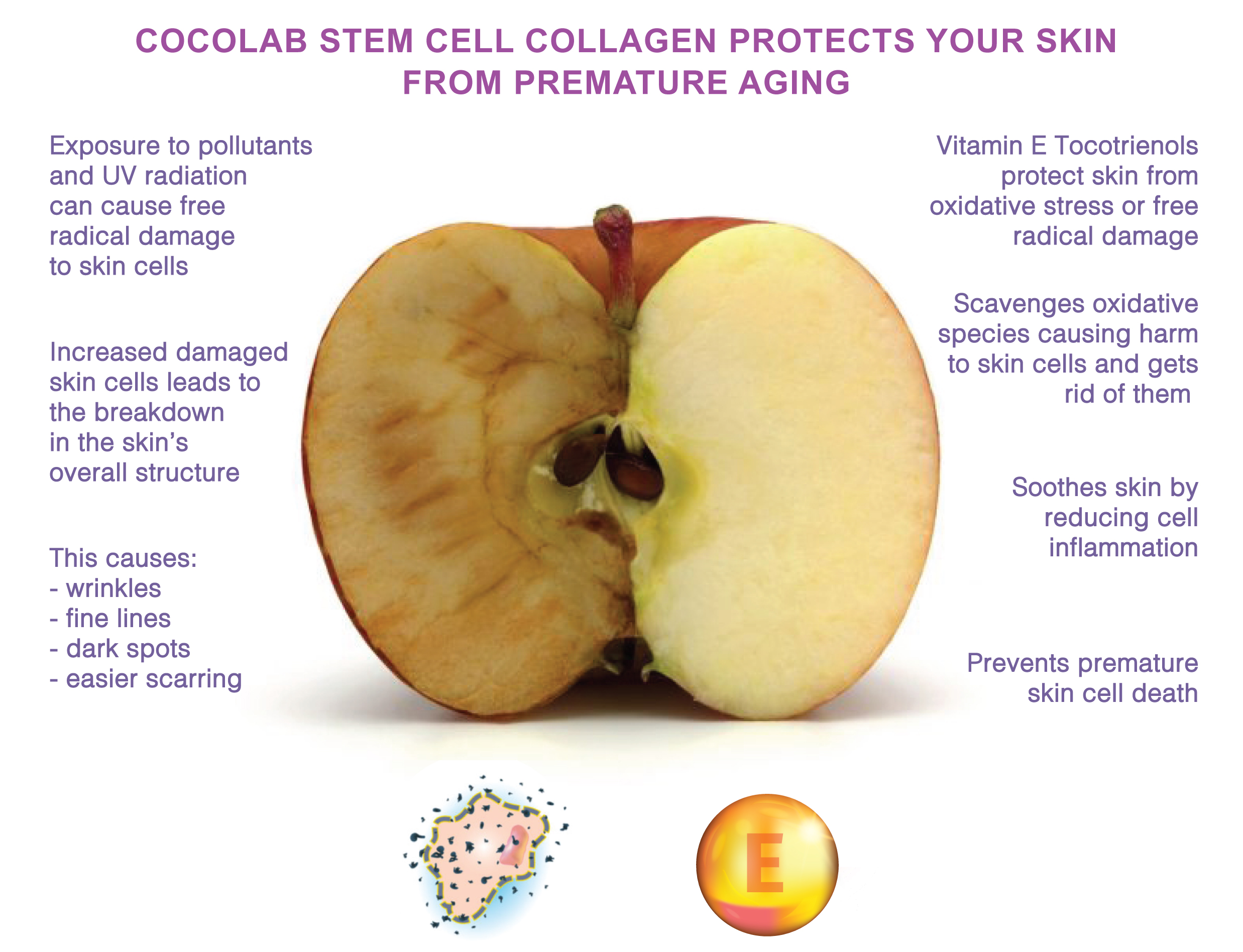 Tocotrienols Vitamin E has skin brightening properties that can help protect your skin against sun exposure. In experiments conducted with UV irradiation exposure, treatment with Tocotrienols Vitamin E helps in reducing skin redness by 26% compared to treatment without it[7]. Skin darkening after this exposure was also reduced by 32%[8]. Our Tocotrienols Vitamin E facilitates the breakdown of melanin[9], with a marked 55% melanin reduction[10] by inhibiting the production of the enzyme tyrosinase[11] which causes these hyperpigmentations.
Key Ingredient: Medium Chain Triglyceride C8 Caprylic Acid (MCT C8)
MCT C8 is the main carrier of key ingredients to be delivered directly to where they need to be[12], saving your body less time in processing and more effort in getting the work done immediately.
It also provides the body with extra energy to cope with repair and maintenance of the skin. This extra energy allows the body to allocate the necessary energy needed to renew cells, tissues etc. Besides supplementing energy to your body, MCT C8 provides the ketone energy that is easily used by the brain for a more alert mind[13]. Supplementing with Stem Collagen drink boosts mental clarity throughout your day.
MCT C8 also promotes a higher metabolism to help in weight management[14]. This active ingredient gives a satiating effect[15] (feel more full) which aids in controlling your diet and helps in burning fat in the body. As MCT's are not stored in the body as fats the way carbohydrates or sugar are[16], they help to maintain a healthy insulin level or sugar levels.
Other beneficial ingredients for skin: High in Vitamin C (ascorbic acid)
Vitamin C is pivotal in keeping immunity systems strong and healthy. Stem Cell Collagen delivers Vitamin C effectively into your system.
Recommended For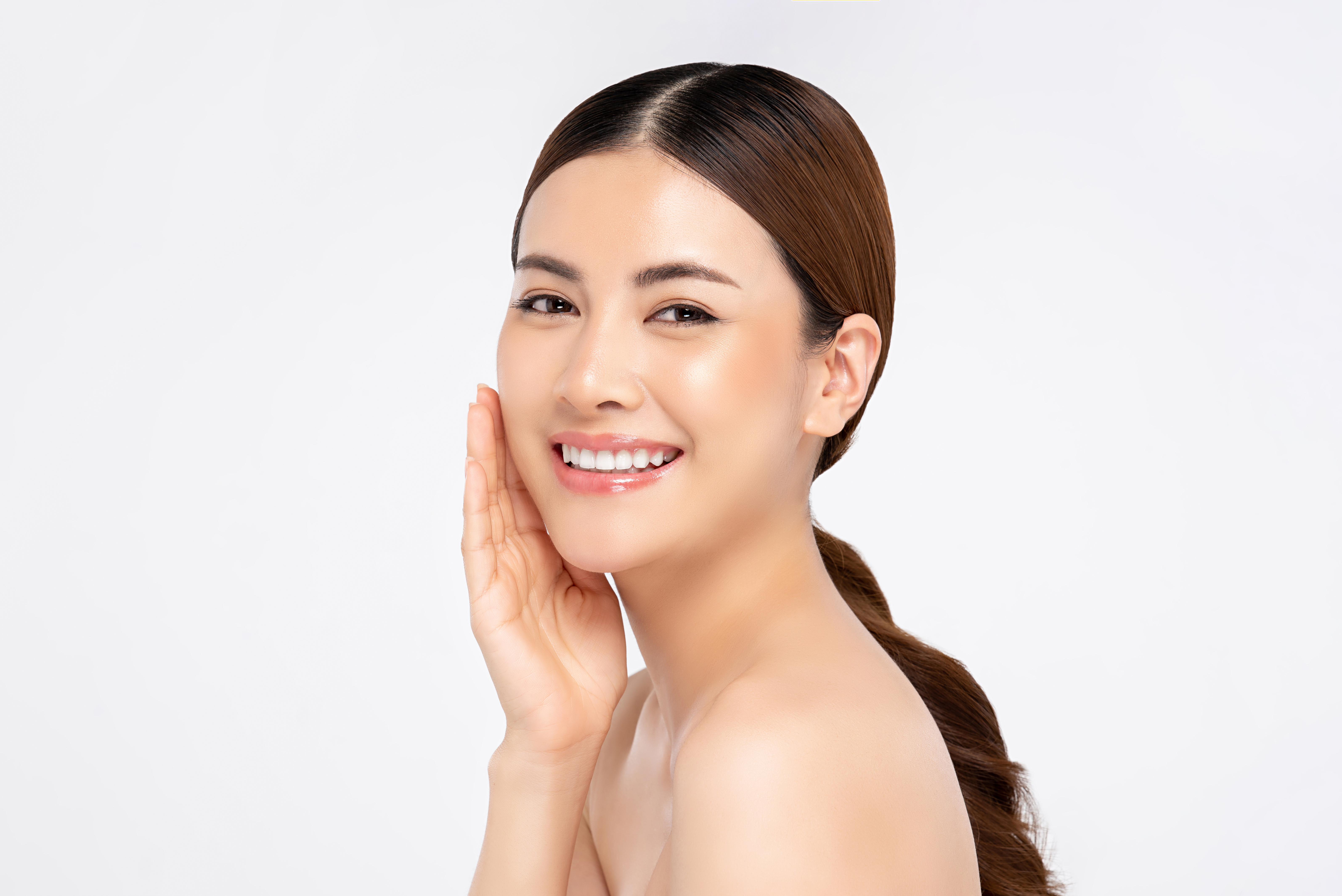 This is no stranger to those looking to improving skin health and elasticity. Ageing skin in need of firming up and skin revitalization will benefit from this product. It is also recommended for those concerned in maintaining youthful-looking skin.

Supplement your Stem Cell Collagen drink with a good diet and a healthy lifestyle for faster results. It is highly recommended that adults begin including Stem Cell Collagen in their daily diet as early as possible as collagen production reserves begin to deplete with age.
In order to achieve best results in a shorter period of time, it is highly recommended to take Stem Cell Collagen consistently.
Benefits
Increases skin elasticity and firmness

Prevents and reduces fine lines and wrinkles

Anti-ageing benefits

More supple plump and hydrated skin

Improves bone density

Improves flexibility and mobility

Boosts energy levels

Thickens fine hair and slows down hair loss

Slows down skin cell death

Better protection internally from UV irradiation

Brighter skin complexion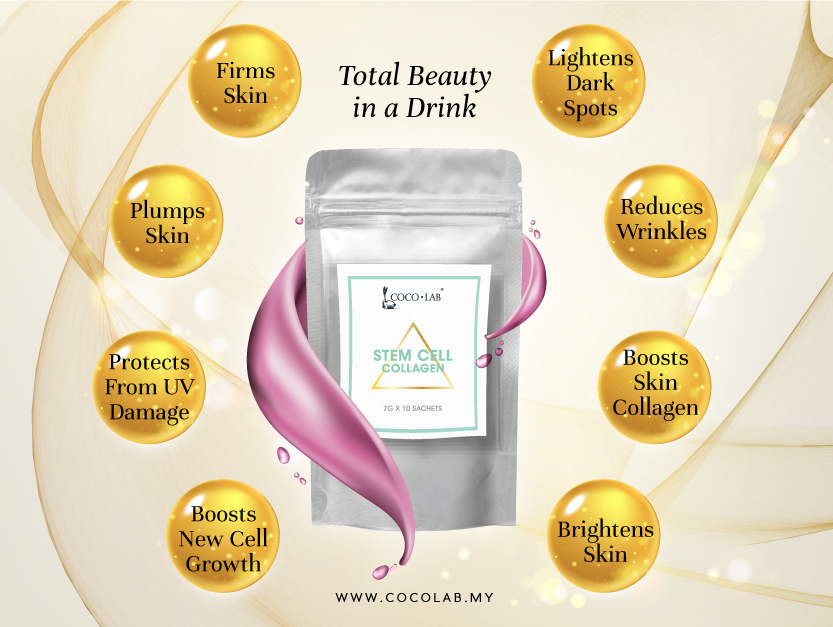 Ingredients
MCT Powder (MCT C8), Fish Collagen Peptide, Mixed Fruits (blackcurrant, blackberry, raspberry, blueberry, elderberry), Mixed Tocotrienols Tocopherol (DavosLife E3), Ascorbic Acid, Stevia, Pomegranate extract, Apple Stem Cell
All ingredients are certified HALAL.

Size
Each pack contains 10 x 7gm sachets
Directions For Use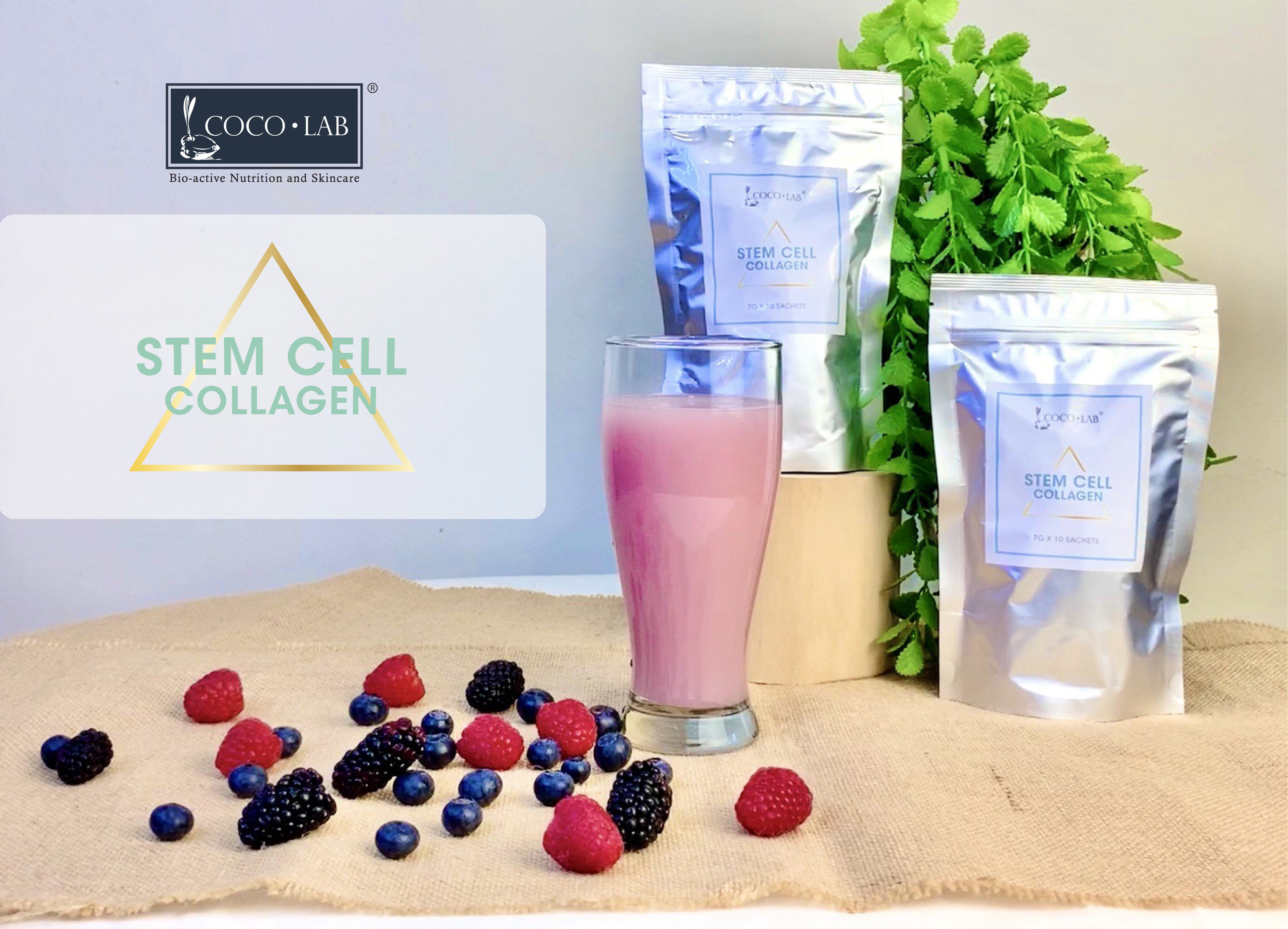 Mix 1 sachet of Stem Cell Collagen with 120-180ml of room temperature water. Stir well and drink.
Age 25 – 30: Take 1 sachet once daily for the first 14 days. Continue with 1 sachet every alternate day for maintenance.
Age 30 – 50: Take 2 sachets daily for the first 14 days. This can be broken up into 2 consumption times and not necessarily 2 sachets at one go. Continue with 1 sachet daily for maintenance.
Age 50 & above: Take 2 sachets daily for as long as results are desirable. This can be broken up into 2 consumption times and not necessarily 2 sachets at one go.
* Dosage suggestions for best results
FAQ
[Q] Can I mix more than 120ml of water with Stem Cell Collagen?
[A] Yes, you can. You can mix up to 300ml of water. Just take note that the more water you're mixing, the less concentrated the taste will be. Feel free to adjust your water intake according to your preference
[Q] When should I take my Stem Cell Collagen? Before / After meals?
[A] You can take the Stem Cell Collagen before or after meals. Taking it before meals may make you feel slightly full, and therefore consume less in your next meal. But there is no harm in taking it after a meal too.
[Q] I am taking other collagen drinks. Should I stop taking them when I start Stem Cell Collagen?
[A] It is not necessary to stop taking other collagen drinks. This is completely up to your personal preference as well. If you have a medical advice from your doctor requiring you to limit your collagen intake, you should stop taking other collagen drinks when starting Stem Cell Collagen.
[Q] I am vegetarian. Is Stem Cell Collagen vegan-friendly?
[A] Stem Cell Collagen contains Fish Collagen Peptides. This is necessary as Fish Collagen Peptides are better absorbed by the body and therefore more effective compared to vegan options such as plant collagen. So unfortunately, Stem Cell Collagen is not vegan-friendly.
[Q] I am pregnant / breast-feeding. Can I take Stem Cell Collagen?
[A] We suggest that you seek the advice of your healthcare practitioner as different individuals have varying needs during this period.
[Q] I am on a diet. Can Stem Cell Collagen be my meal replacement?
[A] While Stem Cell Collagen can make you feel slightly full, it is not a full liquid meal. We would recommend taking light food if you must after taking Stem Cell Collagen.
[Q] Can I add Stem Cell Collagen into other drinks or meals?
[A] Yes, you can it into other drinks or meals. We would suggest adding it into beverages or meals that are room temperature as well. Think smoothies, acai bowls, yogurt, milkshakes, parfaits, or anything your imagination leads you to. Have fun experimenting!
[1] Aberdam D. Epidermal stem cell fate: what can we learn from embryonic stem cells? Cell Tissue Res. 2008 Jan;331(1):103-7.
[2] Schmid D, Schurch P, Belser E, Zülli F. Plant Stem Extract for Cell Longevity of Skin and Hair. SOFW Journal. 2008;134(5):30-5.
[3] Schmid D, Schurch P, Belser E, Zülli F. Plant Stem Extract for Cell Longevity of Skin and Hair. SOFW Journal. 2008;134(5):30-5.
[4] Schmid D, Schurch P, Belser E, Zülli F. Plant Stem Extract for Cell Longevity of Skin and Hair. SOFW Journal. 2008;134(5):30-5.
[5] Schmid D, Schurch P, Belser E, Zülli F. Plant Stem Extract for Cell Longevity of Skin and Hair. SOFW Journal. 2008;134(5):30-5.
[6] Asserin, J. et al., 2015. The effect of oral collagen peptide supplementation on skin moisture and the dermal collagen network: evidence from an ex vivo model and randomized, placebo-controlled clinical trials. Journal of Cosmetic Dermatology, doi: 10.1111/jocd.12174
[7] Yap, W.N. 2017. Tocotrienol-rich fraction attenuates UV-induced inflammaging: A bench to bedside study. J. Cosmet. Dermatol. : 1-11.
[8] Yap, W.N. 2017. Tocotrienol-rich fraction attenuates UV-induced inflammaging: A bench to bedside study. J. Cosmet. Dermatol. : 1-11.
[9] Choi, B., Heo, J.H., Kwon, H.J., Lee, E.S., and Sohn, S. 2013. Tocotrienols enhance melanosome degradation through endosome docking/fusion proteins in B16F10 melanoma cells. Food and Function, 4(10): 1481-1488.
[10] Yap, W.N., Zaiden, N., Xu, C.H., Chen, A., Ong, S., Teo, V., and Yap, Y.L. 2010. Gamma- and delta-tocotrienols inhibit skin melanin synthesis by suppressing constitutive and UV-induced tyrosinase activation. Pigment Cell Melanoma Res., 23(5): 688-692.
[11] Makpol, S., Arifin, N., Ismail, Z., Chua, K., Anum, Y., Yusof, M., and Ngah, W. 2009. Modulation of melanin synthesis and its gene expression in skin melanocytes by palm tocotrienol rich fraction. Afr. J. Biochem. Res. 3, 385-392.
[12] St-Onge, M. P., Bosarge, A., Goree, L. L., & Darnell, B. (2008). Medium chain triglyceride oil consumption as part of a weight loss diet does not lead to an adverse metabolic profile when compared to olive oil. Journal of the American College of Nutrition, 27(5), 547–552. https://doi.org/10.1080/07315724.2008.10719737
[13] Kaunitz, H., Slanetz, C.A., Johnson, R.E., Babayan, V.K., Garsky, G. Nutritional properties of the triglycerides of medium chain-length. J Am Oil Chem Soc, 1958, 35: 10-13.
[14] Babayan, V.K. Medium chain fatty acid esters and their medical and nutritional applications. J Am Oil Chem Soc, 1981, 58: 49A-51A.
[15] St-Onge, M. P., Mayrsohn, B., O'Keeffe, M., Kissileff, H. R., Choudhury, A. R., & Laferrère, B. (2014). Impact of medium and long chain triglycerides consumption on appetite and food intake in overweight men. European journal of clinical nutrition, 68(10), 1134–1140. https://doi.org/10.1038/ejcn.2014.145
[16] Kaunitz, H. Dietary use of MCT in "Bilanzierte Ernaehrung in der Therapie," K. Lang, W. Fekl, and G. Berg, eds. George Thieme Verlag, Stuttgart, 1971.
COCOLAB Malaysia Apple Stem Cell Collagen Vitamin E Tocotrienols Tocopherol Medium Chain Triglyceride MCT C8 mixed berries drink supplement for skin